8089 Franktown Road, Ottawa (RICHMOND) ON KOA 2ZO
•
613-838-7293
Enjoy Golf At The Riverbend
Under new Management for 2019
Just 30 minutes from Ottawa, our classic style 18-hole regulation courses offer unique challenges for golfers of all skill levels.

With blue grass fairways and bent grass greens the RiverBend course is nestled among trees and weaves alongside the Jock River.
Even terrain with sand bunkers, water hazards, large trees, and sloping greens to test your skills.
Warm-up using our practice putting green and driving net.
Enjoy a cold refreshment on our new patio or a nourishing snack in the clubhouse.
Our motorized carts can accommodate members, casual green fee players, or tournament players.
We offer league play at special rates for Seniors, Juniors, Men and Ladies.
Our course is well-groomed and our facilities are managed by professional staff.
"A hidden gem in the rough, you have to be accurate when approaching greens as they are small...but gives you a chance when putting. Staff is friendly and very accommodating. Grounds staff did excellent job in maintaining this course with the massive rain received this summer...greens have never been in better shape."

08/02/2017
"This course has some of the best deals around! The surroundings are beautiful and after our round we were able to enjoy a few drinks on the licensed patio! Staff was very nice as well. I would highly recommend this course to anyone!"

08/30/2017
"A jewel in the ruff, this is a decent course that has improved dramatically in recent years. A real bargain! There are four different tees, blues(6101), whites(5762), reds(5008) and golds(4585). Any level of golfer can play here. The Jock River runs through the course, so water does come into play on some holes. Tree lined fairways, with well manicured greens. I will be playing this course often.

06/12/2017
Tee Times - 20% off green fees until July 1st 2019
Weekday: Monday to Thursday
$30 - 18 holes
$18 - 9 holes
Membership: Full season seven days
$1080 regular
$940 seniors (55+) and juniors
Members also get a 15% discount for their guests
Weekend: Friday to Sunday & Holidays
$36 - 18 holes
$21 - 9 holes
Twilight rate: After 4pm Monday to Thursday
$24 - 18 holes
$14 - 9 holes
Junior discounts on green fee only:
Packages 9 holes:
$189 - 10 rounds
$357 - 20 rounds
$504 - 30 rounds
Packages senior and junior 9 holes:
$144 - 10 rounds
$272 - 20 rounds
$384 - 30 rounds
Membership: Full season (Monday to Friday)
$900 regular
$780 seniors (55+) and juniors
Members also get a 15% discount on weekends and for their guests
Power cart rental: Per person
$15 - 18 holes
$9 - 9 holes
Pull cart rental: Per person
$6 - 18 holes
$3 - 9 holes
Seniors (55+) and junior rates: Per person
Monday to Friday
$24 - 18 holes
$16 - 9 holes
Packages 18 holes:
$324 - 10 rounds
$612 - 20 rounds
$864 - 30 rounds
Packages senior and junior 18 holes:
$216 - 10 rounds
$408 - 20 rounds
$576 - 30 rounds
Tee Blocks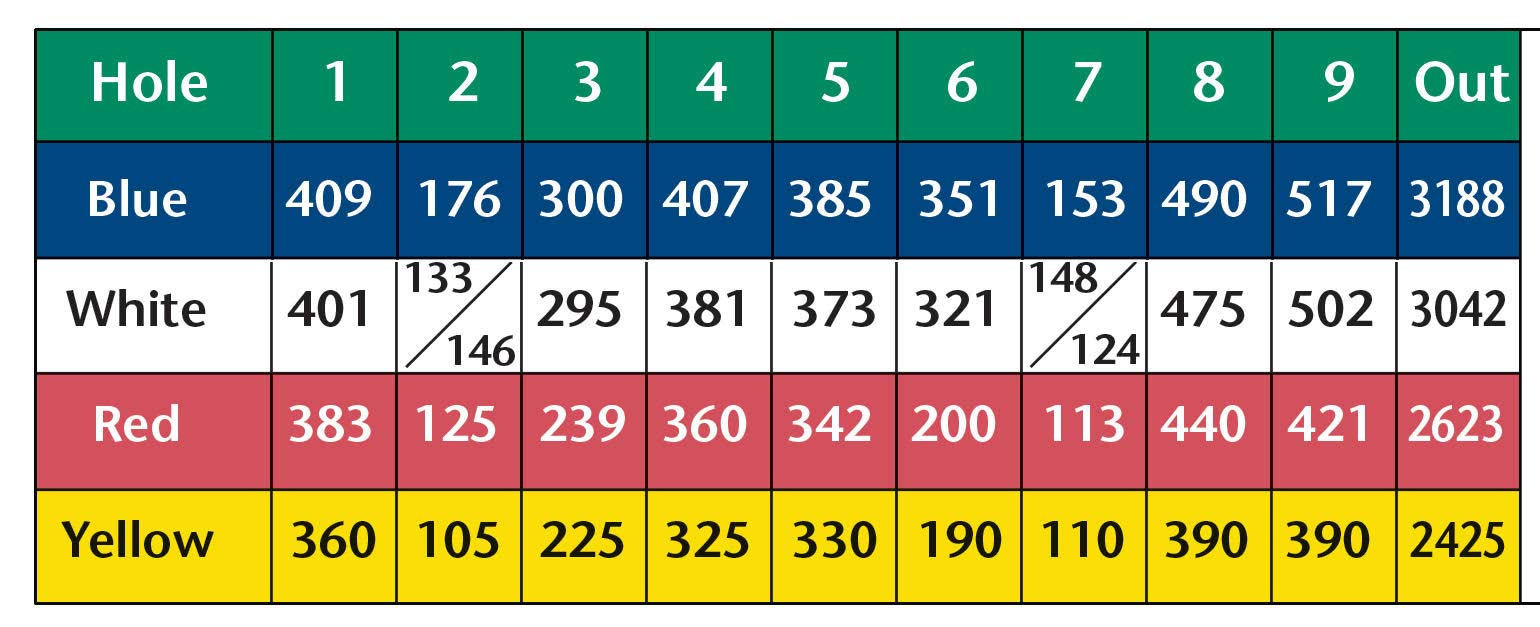 Join us at the RiverBend golf & country club